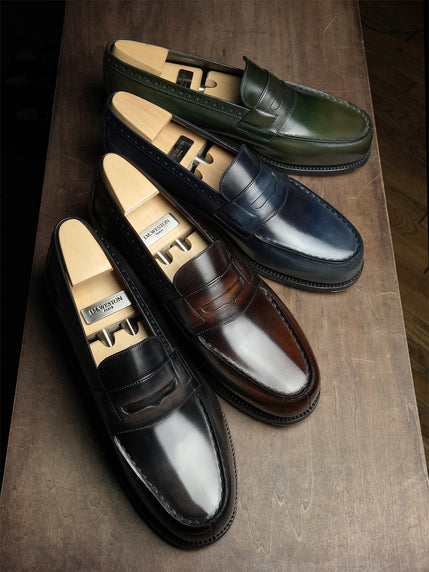 Yohei Fukuda & JM Weston Collaboration Shoes
We are proud to announce our 2nd collaboration series with esteemed shoemakers JM Weston, the iconic 180 Signature Loafer featuring our antiqued patina finishing and perforations along the top line.
These loafers are perfect for casual occasions and for travel as well. In these unusual times loafer style shoes are an excellent choice when working from home as well.
We are excited about collaborating with JM Weston once again to produce a shoe our team could not produce on its own.
Orders will be taken from December 1 until December 25 at our workshop, as well as on our online store and via email. 
The loafers are limited to 100 pairs only. International shipping is available.
Customers are able to choose their desired finish, either antique patina or non-Patina, as well as the size (Men's and Women's) and width of the shoe.
The price of the shoes is JPY 150,000 including shoe trees, with a 50% deposit kindly requested at the time of order. Delivery of the shoes is scheduled for June 2021.
Please contact us if you have any questions.